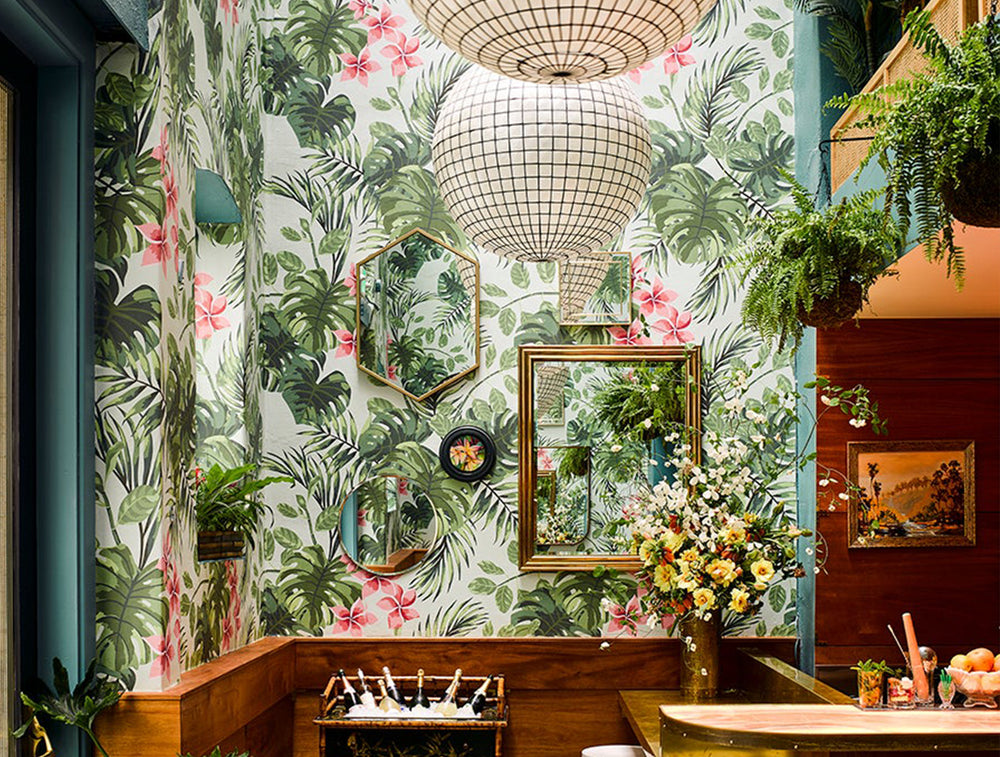 Top 5 Interior Design Trends We see Today
The best part about design is that it constantly keeps adapting to the utilitarian purposes of the dwellers and the environment! This year unfolded various trends, all related to being 'out there' and bold! The Instagram feeds are dominated by spaces that make a statement upfront and tell their unique story.
We understand that keeping up with the trends can be tricky especially if you are restricted with the current furnishings. But this blog will help you spruce up your interior with a trendy flair.
1. WHIMSICAL WALLPAPERS 
IMAGE CREDIT: KEN FULK // LEOS OYSTER BAR 
Wallpapers that scream for attention have become a fad. Bright colors and unconventional designs have become a common sight. These large-scale prints look more like a work of art than your everyday wallpaper, this restaurant designed by KEN FULK is a force to be reckoned with. 
2. DRAMATIC WALL LAMPS AND SCONCES 
Lighting is definitely having a moment in the design industry. This year, striking light fixtures have gained tremendous popularity. Especially wall lamps and pendants give a bold detailing to the room. Riad Wall Sconce is a piece that can transform any space with its glamorous design and metallic hue.
3. THE RETURN OF BLACK 
Black interiors are here to stay! But this time, with a pinch of stark contrasts. Dark walls and floors are being favored by all the top interior designers juxtaposed by light furniture and textiles.
4. A TOUCH OF GREENERY
Biophilic architecture is on the go and so are natural-looking interiors. We're not talking about including a house plant in your décor but dedicating a specific space for lush plants and outdoor elements.
5. STATEMENT CEILING AND FLOOR 
Goodbye, boring ceilings and floor! This year is all about experimenting and taking your design game one step further by opting for eclectic ceiling and flooring patterns.
Explore these trending facets of interior design to upgrade your home. This year is all about creating a 'wow effect' on people with stark furnishings and finishes!  
Illuminate your space perfectly
Lighting plays an important role just like the color scheme and interior design style of your home. Often, people miss on the key features of lighting which make the house look either too bright or...
Read more