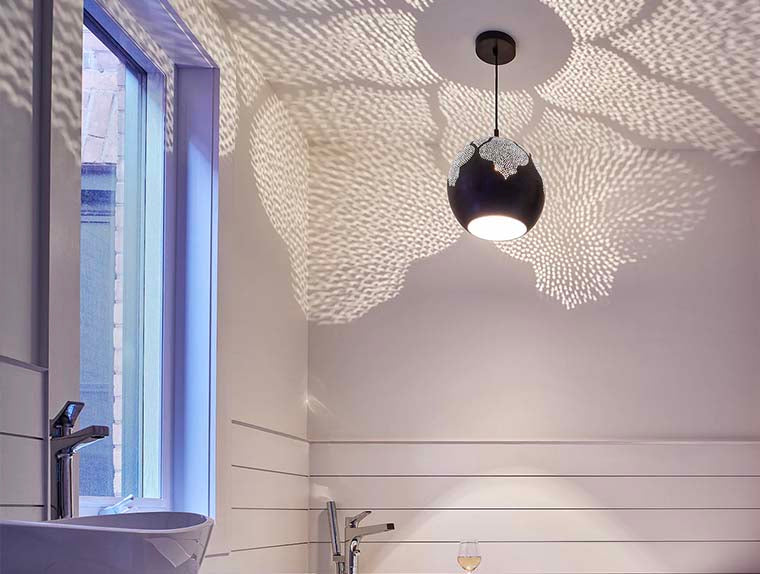 5 Simple Ways to Make Your Bathroom Lighting Shine
Find out all you need to know about bathroom lighting, whether you're completely remodeling the master bath or just updating the powder room.
You want to begin with lighting when doing bathroom renovations. It will set standards such as functionality and tone.

There are three main lighting types.
Ambient  It lights up the entire space
Task It is focused on specific areas 
Accent It is supplementary, in that it helps light up small dark corners
Here are the main bathroom lighting styles that we love.
USE OF CEILING LIGHTS
Normally, ambient light emanates from overhead sources. You can switch from your current light sources to elegant Dounia Home pendants. For a bold statement in your vanity, go for two pendants on both sides of your mirror. You can forego sconces in this case. If your bathroom has a low ceiling, a flush or semi-flush fixture can help bring a streamlined look.
USE OF VANITY LIGHTS
We use the vanity in our bathrooms to perform different tasks. For getting ready, install wall sconces to shower the area with elegant lighting as you go about your daily routine. Place the fixture over the mirror around 90 inches from the base floor.
SCONCES
Place a two sconce on each side of the mirror to create a balanced well lit space. similar to our Nur wall sconces. These provide evenly distributed bright light and are ideal for using in vanity of your main bath. 
PENDANT LIGHTS
Accent lights are typically more functional in larger spaces such as your living room, kitchen and bedrooms. Nevertheless, they can be incorporated into bathrooms in the form of mod lighting, use our Najma pendant light to cast mesmerizing shadows in your bathroom for a relaxing feel.
Full baths and the areas above sinks do well with damp-rated lights. (All our fixtures are damp-rated)
TECHNICAL INFO
WATTAGE
We recommend that you go for 60-watt or 900 Lumens bulbs as the pendants and sconces that will go on either side of your mirror. They will provide the area with lots of illumination if you have a master vanity.
In your powder room, you don't need lots of targeted lights. The ideal bulb here is one of 40 watts or 460 lumens..
DIMMERS
Dimmers are great! Have them installed when you upgrade the electric wiring or lighting in your house. They compliment bathrooms because they allow subtle brightness during the day and less intrusive light at night.
Get started on your bathroom remodeling with our tips above.